Memoirs of a Gaysha
May 15
Perhaps I should go back to school and get that engineering degree.
Alternative Limb Project Features Cutting-Edge Designs

Each of her designs offer a sense of individuality, allowing the customer to express their personality through their synthetic appendages. The artist says, "Having an alternative limb is about claiming control and saying 'I'm an individual and this reflects who I am.'"
; life has killed the dream I dreamed ;: Do you know what it is like to hate your body so much that you go to... -
How does one move to loving one's body and seeing oneself as attractive, especially if one is already attractive and can not recognize that for themselves?
It's a question I've been contemplating recently.
Do you know what it is like to hate your body so much that you go to any lengths to destroy it?

No. I don't think you do.
You are far too busy running around town with your perfect hair, perfect eyes, perfect body, perfect skin, everyone loving you, boys falling at your feet, money thrown at you…
Apr 01
[video]
Mar 31
Police called over man singing "Free Falling" -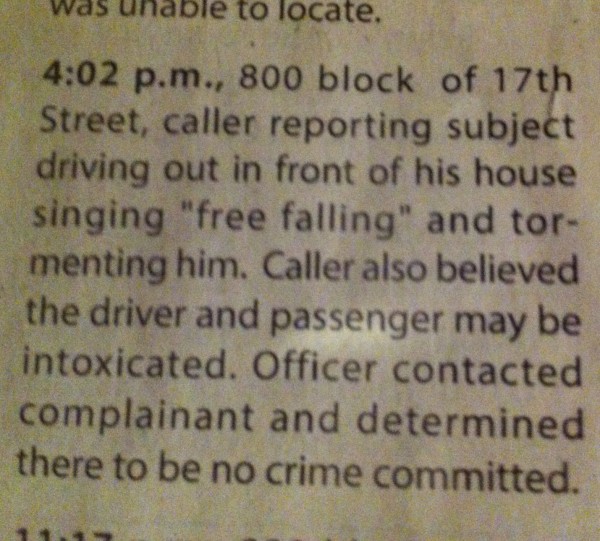 (Source: clatko)

[video]

"Hundred of years of arterial bitterness, in Ireland and elsewhere, are never easy to ignore. They cannot be whisked away with a series of signatures. It takes time and struggle to maintain even the remotest sense of calm. Peace is indeed harder than war, and its constant fragility is part of its beauty. A bullet need happen only once, but for peace to work we need to be reminded of its existence again and again and again." — Colum McCann writing in the New York Times about the fifteen years that have passed since the Good Friday Agreement. (via thepoliticalnotebook)

"There are, of course, inherent tendencies to repetition in music itself. Our poetry, our ballads, our songs are full of repetition; nursery rhymes and the little chants and songs we use to teach young children have choruses and refrains. We are attracted to repetition, even as adults; we want the stimulus and the reward again and again, and in music we get it. Perhaps, therefore, we should not be surprised, should not complain if the balance sometimes shifts too far and our musical sensitivity becomes a vulnerability." — Oliver Sacks, Musicophilia: Tales of Music and the Brain (via houseofmind)

"

Luke 23:34 Jesus said, "Father, forgive them, for they don't know what they're doing." They drew lots as a way of dividing up his clothing.

Luke 23:43 Jesus replied [to the criminal], "I assure you that today you will be with me in paradise."

John 19:26-27 When Jesus saw his mother and the disciple whom he loved standing nearby, he said to his mother, "Woman, here is your son." Then he said to the disciple, "Here is your mother." And from that time on, this disciple took her into his home.

Matthew 27:46 At about three Jesus cried out with a loud shout, "Eli, Eli, lama sabachthani," which means, "My God, my God, why have you left me?"

John 19:28 After this, knowing that everything was already completed, in order to fulfill the scripture, Jesus said, "I am thirsty."

John 19:30 When he had received the sour wine, Jesus said, "It is completed." Bowing his head, he gave up his life.

Luke 23:46 Crying out in a loud voice, Jesus said, "Father, into your hands I entrust my life." After he said this, he breathed for the last time.

" — biblegateway.com
Easter Sunday
Note: This is an expanded post from one I started a year ago but never completed.

I remember being 8 years old waking up on Easter Sunday morning. It was one of the most exciting days of the year for me. My grandmother and mother would wake me and my three siblings up bright and early and we would put on our Sunday best—usually attire that we'd bought the Saturday before on a shopping trip to Jackson or Vicksburg. Upon heading out of the door, the smell of Spring in Mississippi would meet us with the sun, along with the obligatory "hello, how are you doing this good morning?" that one always says when one comes by another in Mississippi. We'd all pack up in the car, and this was usually the low point of the day because someone had to squeeze in the middle seat—it usually was me, and head on over to church. Service on Easter Sunday was unlike any service throughout the year because it was part fashion show, part family reunion, and part funeral, yet festive. On Easter Sunday, one would see people who one had not seen the rest of the 362/363 days of the year; CME Christians as some would jokingly refer to them because they only attending service on Christmas, Mother's Day, and Easter. 

14 years later I guess I'm one of those Christians. I only watch church, usually TD Jakes or Joyce Meyer, on Television—primarily thanks to YouTube. Yet, I find myself praying every night, journaling—even meditating now—along with reading blogs, learning to read the bible in the original Greek, and studying all manner of spiritual and emotional books. I've been vegetarian at times. I've learned the importance of physical health, etc.
However, I often feel stuck. It's as if the music file won't play, the CD keeps skipping, or the speakers at the concert have blown out. I'm left in the silence, not knowing what hope is or where it went. I'm left in a vast clearing, and out of habit rather than want, I move towards a life of loneliness. I have asked myself, "God, why have you forsaken me?" How have I found myself living this particular life at this particular time? One in which so many of the plans I made and dreams that I dreamed, aside from being at Stanford, have fallen by the wayside and feel out of reach. What about Faith? Hope? Love? Things that came so easy at 8 years old but seem so far fetched now.
I wonder if I have forsaken myself. If I have, out of experience, developed a habit of seeing and accepting suffering as being the only path to experiencing life, rather than allowing the blessings I have to fully integrate into my life. These past 4 years at Stanford, the most stressful place with a contradictory pressure to be happy that I've ever been in, have been difficult to say the least. Without them, I would have never learned the value of counseling, meditation, exercise, prayer, and love. Yet, this has been learned through much instability and dashed expectations. I woke up one day believing that this life I'm living isn't the one I wanted, yet I have blessings, maybe not the ones I envisioned but they are there. As I find myself nearing graduation at the end of the summer, I recognize that I've learned to survive but I've never made the move to thriving in life. I have practiced many elements of wellness, but I've never incorporated them all fully, at one moment, as I worry that if I give life my best and find no fulfillment in return then the world is truly just suffering.
I now make a commitment to wellness, to deep self-love and self-care in every way possible. If nothing comes of it, oh well, I will smoke some marijuana and joy a hippy commune or something else that I think is ridiculous (no shade to hippies and marijuana smokers).
The next 30 days, for the entirety of the month of April, I will practice ovovegetarianism—no carbonated drinks, daily meditation twice per day, daily exercise of at least 30 minutes, daily prayer and journaling, weekly counseling, and perhaps a personal trainer (the jury is still out on that one—poor student problems). I also will be determined to find gratitude once per day, be open to unexpected surprises, and let myself play. I also will not drink alcohol or celebrate 420, perhaps the most difficult things to do on a college campus. I also won't watch porn—I will tell you all if I break that one. #crossesfingers
I will post daily links to my online journal entry archive, and also take a picture of each meal along with a detailed food journal that includes daily exercise. As I am coming off of a stint of chest costocondritis, the jury is still out on how fast I can get back into exercising well, but I'm believing in the best. I hope that I will discover that the spiritual thinkers of our time, that all these philosophies of self-love, whether the Bible, the Tao, Eckhart Tolle, Marianne Williamson, Iyanla Vanzant, or Deepak Chopra, are true when practiced in commitment.
One disclaimer: I have done many of these things before over 21+ day periods so I have some experience practicing each. This journey is about incorporating them perpetually so that I can live my best life each day. It may be that God hasn't forsaken us as much as we have forsaken ourselves. I want to figure out what happens if I show up, all the way, in life, rather than chicken out for fear of what success will mean. I hope that I can convey this journey with truth, even if at times ugly, and that it will provide a model for someone else who comes to this fork in their life's journey.
Wishing for the best, praying for strength through the worst, hoping that the second prayer was unnecessary.
-Kevin
Jun 04
[video]